---
NOTE: Original of this page is at http://sfiff.org/films/Someone.html
---

main page |films |events |search |news |
order |about SFFS |membership |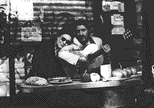 4/19
4:00 KAB 419E
4/21
9:00 KAB 421K

Someone Else's America
<!Cntry>FRANCE/ENGLAND/GERMANY 1995, 96 min.

In English, Serbian and Spanish, with English subtitles
DIR Goran Paskaljevic
PROD Antoine de Clermont-Tonnerre, David Rose, Helga Bähr SCR Gordan Mihic CAM Yorgos Arvanitis ED William Diver CAST Tom Conti, Miki Manojlovic,
Maria Casar`es, Zorka Manojlovic, Sergej Trifunovic DISTRIBUTOR October Films
"Simple tales that tell of the everyday life of ordinary people have always been at the heart of my films," says Goran Paskaljevic, whose Tango Argentino won the coveted Audience Award at the 1993 SFIFF. Someone Else's America--a poignant love letter to the American melting pot--is no exception. This delightfully quirky character comedy, simple and tender, draws on situations that arise from the clash between memories of the Old World and dreams of the New. It traces the lives of two hapless immigrants living in a bustling corner of New York and searching for the land of milk and honey: the doggedly determined Bayo (Miki Manojlovic), a Montenegran illegal employed as a casual laborer and janitor at a dingy Brooklyn bar, and the bar owner, Alonso (Tom Conti), a hopelessly romantic Spaniard who lives with his blind mother (Maria Casar`es). The camera follows this odd couple as they struggle to help their families and adapt to the underbelly of the American Dream, often triumphing through funny and compelling ideas that lend a special glowing flavor that is a joy to behold. Scottish-born Conti evokes the same lothario charm he showed in Shirley Valentine and the ensemble cast gives fine performances.
Selected Filmography: Tango Argentino (SFIFF 1993)
Sponsored by
STARBUCKS