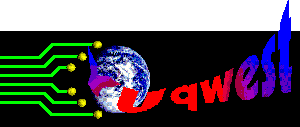 YU-Qwest's Movie Special Interest Group
---
Film Review
SERB IS ROMEO, A CROAT JULIET
By STEPHEN HOLDEN
c.1996 N.Y. Times News Service



Boro Draskovic's devastating antiwar film, ``Vukovar,'' moves so swiftly from scenes of joy into the pits of hell that watching it feels a little like being pushed off a cliff and discovering that there is no bottom.

As the film opens, the people of Vukovar, a Croatian town of 50,000 on the Serbian border, deliriously unite to celebrate the fall of communism.

Amid the euphoria, Anna (Mirjana Jokovic), a Croatian woman, marries her Serbian lover Toma (Boris Isakovic), with the blessings of both their families. But the newlyweds have barely enough time to paint their house before their idyll is shattered.



Almost overnight, the powder keg of ethnic hostilities that had been held in check by communist rule begins to blow. In disbelief, the couple watch televised reports of angry demonstrations spreading across Yugoslavia. The hatreds rapidly mushroom into full-scale civil war. Toma soon finds himself drafted into the Serbian-dominated Yugoslav army.

Anna, who is pregnant, moves in with her parents after her neighborhood turns into a war zone. But there is no escape. One afternoon while Anna is out trading gold for bread, her parents are killed when a stray shell blows up their home.

The most shocking thing about ``Vukovar'' is the utterly matter-of-fact way in which it presents the horrors of war. There is no logic to events. One moment, Anna and Toma are living a comfortable suburban life, the next Anna is foraging for survival in bombed-out rubble crawling with snipers.

Toma eventually finds himself shooting at the house in which she is hiding.

The movie has moments that are hard to take. In one scene, Anna and her best friend, Ratka (Monica Romic), are brutally raped by several Serbian soldiers while Ratka's young daughter is forced to watch. Every now and then, the camera moves away from the action to show the tranquil Danube River bobbing with corpses and body parts.

For all its harrowing scenes, ``Vukovar'' is an oddly dispassionate film. Anna and Toma, although well acted by Ms. Jokovic and Isakovic, are largely symbolic figures in a Romeo-and-Juliet-like scenario that is too thinly developed to have much dramatic impact.

Who they are, what their story is, what they dream of becoming beyond a happily married couple are left to the imagination.

The movie has strange discrepancies of tone. In one expressionistic sequence, three cackling crones, like the three witches from ``Macbeth,'' stir a giant pot of soup that is made, one woman explains, with pigs that have feasted on human flesh. The scene seems glaringly out of place in a film whose most pronounced quality has been the almost perfunctory manner with which it has presented one horror after another.

Most disturbing is the film's nearly complete absence of political background. In endeavoring to make a transcendent antiwar film, the director has remained so studiously nonpartisan that only a few drips and drabs of Balkan politics have been allowed to leak into the movie, and they are carefully balanced to make both sides seem equally culpable.

Strife born of historical wounds is presented as erupting in a historical vacuum.

The film's objectivity hasn't precluded controversy. Last December the Croatian government blocked a United Nations screening of the film and denounced it as pro-Serbian ``propaganda.''

The executive producer, Steven North, insisted that the filmmakers did not take sides and that the director, a Serbian who is the son of Croatian and Bosnian parents and lives in Belgrade, ``tried to depict both sides as guilty.''

The movie's stunning final sequence almost makes up for its frustrating skittishness. As the camera surveys what's left of Vukovar and environs, it finds mile after mile of charred wasteland with nary a sign of life.

---

Production notes:

VUKOVAR Directed by Boro Draskovic; written (in Serbo-Croatian, with English subtitles) by Maja Draskovic and Boro Draskovic; director of photography, Aleksandar Petkovic; edited by Snezana Ivanovic; produced by Danka Muzdeka Mandzuka; released by Tara Releasing.
Running time: 94 minutes.
Rating: This film is not rated.
WITH: Mirjana Jokovic (Anna), Boris Isakovic (Toma), Monica Romic (Ratka), Nebojsa Glogovac (Fadil) and Svetlana Bojkovic (Vilma).