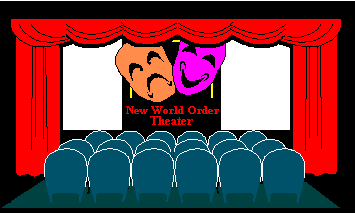 ---
New World Order Theater is situated at the moment in San Francisco. Performances are being presented at differnet locations. The last one FRANK ZAPPA AND THE PRAGUE UNDERGROUND took place at the Bannam Place Theater in North Beach (San Francisco, CA).
Our next show SEX LIFE OF THE UNABOMBERS talks about Sex and terrorism and will take place either there or somewhere else.
We will provide the information about our future activities here first. So, tune in occasionally if you feel like finding out what's going on.
---
"New World Order Theater is the theater for the end of the world as we know it. It was not intended for intellectuals and other dead people (to borrow Frank Zappa's expression) or for the custodians of high culture. Come to think of it, it was not intended for anyone in particular - all we want is a chance to implement a tiny portion of the all conquering imagination, as the only thing left to those individuals who oppose the everyday norms."
from "FRANK ZAPPA AND THE PRAGUE UNDERGROUND" by Branko Dimitrijevic